Hello all! I'd like to introduce a new weekly series here on the blog: "For the Love of Creativity"! It'll be a DIY, tip, & tutorial series!
Every week here you'll find ideas on how to transform clothing pieces into something a lil more special and unique, "look-a-likes" for less, home decor projects, diy jewelry, recipes, make-up tutorials or whatever else happens along.
I have been creating, crafting, & transforming since I was a kiddo. One of my favorite things to do is make something out of nothing or, better yet, up-cycle an item to make it again beautiful and useful! I also get a rush out of creating "look-a-likes" for less!
This series will be link party style so feel free to like up any DIY project, tip, or tutorial below! Or you can always check in to gather up some inspiration! This series is for you guys so have fun with it!
I was walking through J. Crew last week (checking out the sales) and came across the Amina belt, a wrapped color blocked belt. I thought "oh, how cute! What a fun use of color! How much?" flipped over the price tag...$52. Ok, for a J.Crew belt is this ridiculous? No. But I didn't want to spend $52 on a belt that I knew I could easily recreate. S
o to get this series started, I bring to you the DIY Amina belt:
a skinny belt ($2.50 at Forever 21)

the one I used had little studs that easily popped off for a smooth surface.

5 colors of embroidery floss: I used 2 metallic, 2 basic, and 1 gloss ($3.50)

Fray block ($2.50) or Elmer's Glue

Scissors
Measure 5" from where the buckle attaches to the belt. Wrap your first color floss around the belt and tie with a knot. Tuck your tail so it'll lay on the backside of your belt and be wrapped by the floss. Use fray block to adhere the tail down the belt. Keep floss tight & begin wrapping.
Wrap with that color until it is the width you desire. To switch to a new color, tie the new color to the old color with a knot. Dab the knot with fray block & adhere your tail to the belt.
Continue wrapping your floss tightly, while covering your tail with the wrapped floss. Be "aesthetically spontaneous" with your next color & width.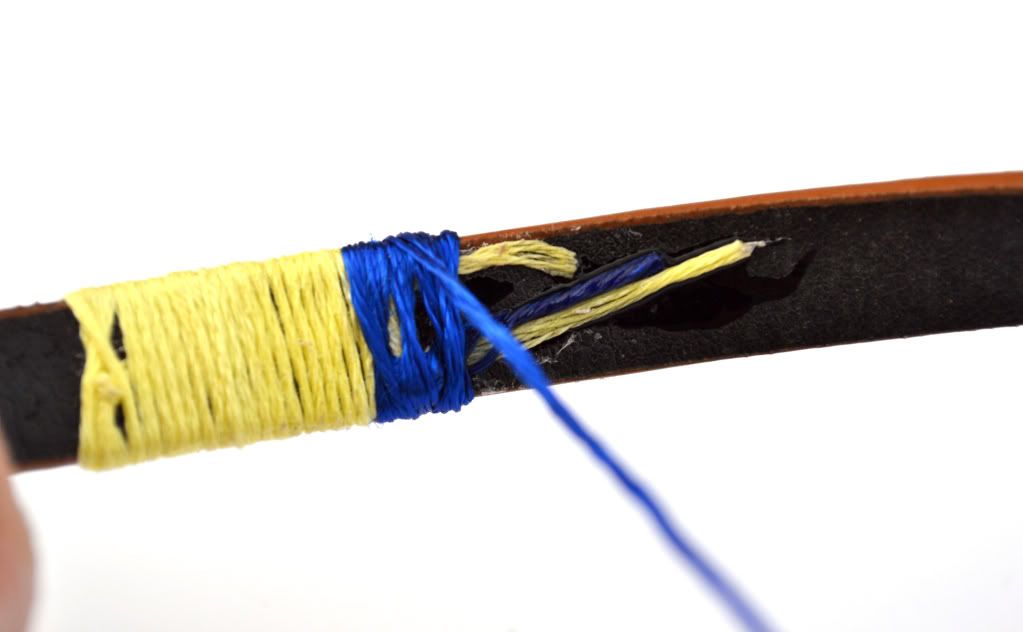 Once you reach the first hole, tie a knot on the backside to finish. Secure & adhere knot with fray block. All done! Here's your finished DIY Amina Belt!
Start to finish, this project took me about an hour. Here's the finished belt so you can see the random sizes of color blocks I used.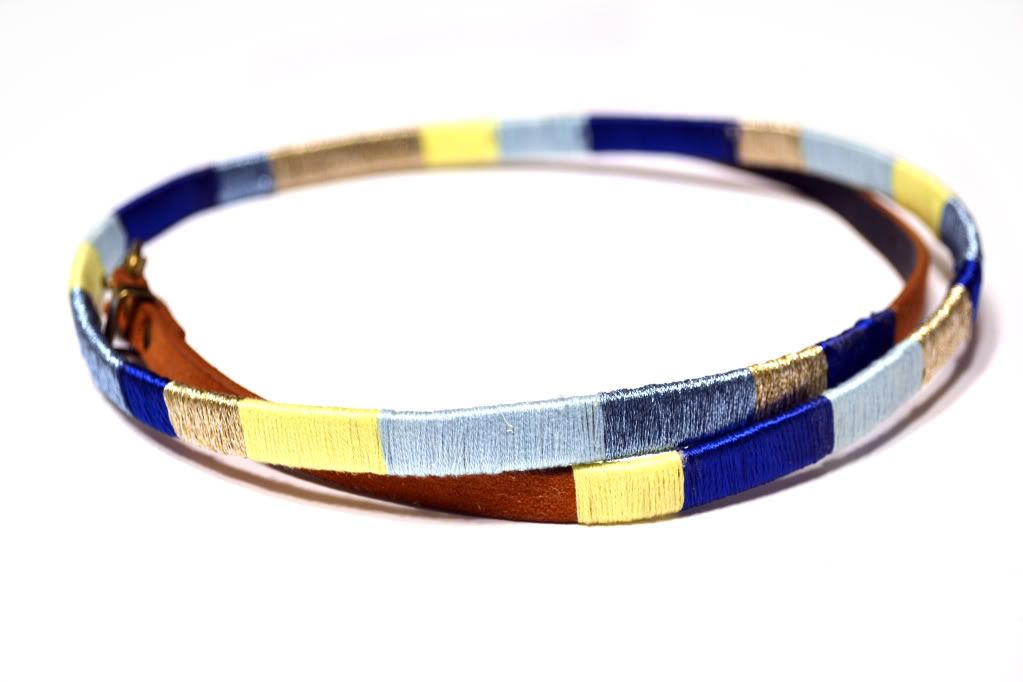 Well, what do you think? Pretty close huh? And $43.50 cheaper :)
Now it's your turn! Have a DIY, tip, tutorial, or recipe you want to show off? Link it up below!