Have you heard of Anjolee yet? I have randomly seen them around the internet and have adored their jewelry featured in their ads but really never had a reason to go check out their site...until I received an email from them a couple of weeks ago asking me to take a peek at their selection and if I would like to collaborate with them and do a review. I am truly picky about what is posted here on Simply Bold. I don't want to ever try to sway anyone toward anything that I myself would not love. This is a personal style blog and I only allow sponsors that would fit with my personal style & my blog. Technically, this is a sponsored post but all opinions are 100% mine.
Ok, schwoo! That being said...I was amazed at the selection they have, from gemstone bracelets to diamond anniversary rings. Also, their jewelry ranges from petite to bold and in lots of price points! Every single piece can be customized. From the metal type, carat weight, diamond quality, gemstone, and bracelet/necklace length, all of their gorgeous jewelry can be tailored to your preferences! I'm sure you all realize that I adore tweaking things to make them more unique...they do all that dirty work for you! You just tell them what to do, they create it (just for you!), and mail it to you from their California location with a diamond guarantee and certificate.
If you're not absolutely head-over-heels when you receive your jewelry you can send it back for a 100% refund...on a custom piece of jewelry! What? That's unheard of! Typically, from other sites if you have anything customized then there's limited options on refunds (and very rarely a 100% refund)!
When you go to their site, you can choose what type of jewelry you're in the market for, customize it (you can watch the price increase or decrease for each option you choose), then look at it in HD and in a 360 degree view! They even have commentary on each piece, which you can pause or choose to not listen to it at all...unlike the salesmen at jewelry stores...trust me here, you can't get salesmen to stop promoting long enough to gather your own thoughts on the piece.
They also have a vintage line that I am drooling over. It's stunning, classic, unique, and can make the perfect statement. Who doesn't love looking at diamond engagement rings? Jake has already gotten plenty of hints dropped on my ideal ring but another one never hurts, right? Plus, I lucked out and actually got a guy who thinks jewelry is the perfect gift for special days. He's not allowed to get me jewelry as am "I'm sorry" though...the last thing I need is tainted jewelry.
Here are a few of the designs that are now on my wish list: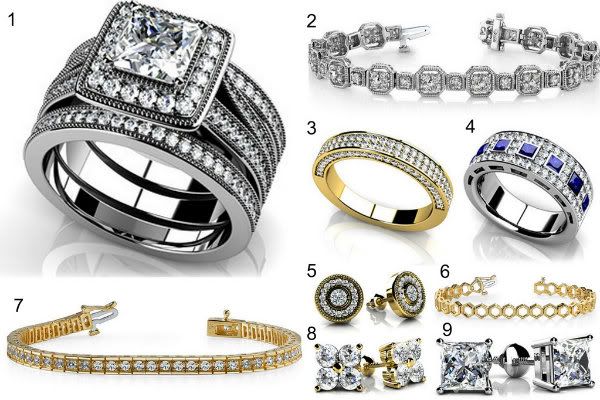 Go check out Anjolee's site and have fun playing with all the customization options!